Hello Friends,
Guess who is fundraising for The KNOSK N100-A-Day Secondary School this Valentine?
It is AY! Nigeria Ace Comedian and Celebrity!!
Thank you, AY for showing love to children at KNOSK N100 A-Day School this Valentine.
AY is calling on you to join him this Valentine to make a donation to The KNOSK N100-a-day Secondary School.
To join AY and make a donation, send an SMS with the text 'AY CROWD' to 08090459999 or 09033338510 to get the bank details.
What is KNOSK School?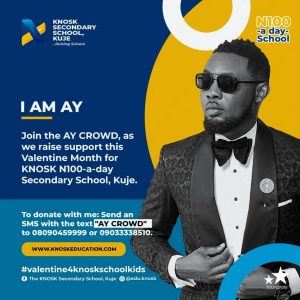 The KNOSK N100-a-day Secondary School is a charity Secondary school designed for children from low-income families.
For N100-a-day, our school children get uniforms, books, lunch and the girls get sanitary pads monthly.
The actual fees are N66,000 but parents get to pay as low as N100 a day or N6,000 per term.
To cover the outstanding cost per child, we call on generous partners such as you to cosponsor a child or more by donating N100 a day per child (N3,000 per month) or any amount that is convenient for you.
Donations can be done one-off or periodic as you wish.
To donate with AY this Valentine month by texting "AY CROWD' in an SMS to 09033338510 or 08090459999 to get bank details.
KNOSK N100-a-day school in Kuje is helping kids from low-income homes get quality education and break the cycle of poverty in the future…we would love you to help today!
The KNOSK School is an initiative Of the Youngstars Foundation.
To learn more visit www.knoskeducation.com